What is it like coming to Sweden and working with Talent Acquisition? Why is TA so important for an organisation? And what skills are necessary to work with recruitment?

These are some of the things we've interviewed Mine Hacisalihoglu about. Having worked with TA, HR and recruitment in Turkey, Spain and Sweden, she knows international recruitment and the value it brings.
_____________________________
Talent Acquisition (TA), Human Resources (HR), and recruitment is your area of expertise. Why have you chosen to work in this field?
I have chosen to work in the field of Talent Acquisition (TA), Human Resources (HR), and recruitment because it aligns with my passion for connecting people with opportunities and my interest in technology. We dedicate a significant portion of our lives to our profession. I find great satisfaction in helping individuals find the right job and organization where they can thrive and grow, particularly in the tech industry. Additionally, the field of TA and HR is constantly evolving, and I enjoy staying current with the latest trends, best practices, and technologies to provide the best possible service to candidates and companies, particularly regarding the digitalization of HR processes.
A company's success, especially in the tech industry, depends on the quality of its people. The mission of helping the organization achieve its corporate strategy, cultivating a positive culture, building solid partnerships, meeting workforce needs, and providing high-quality experiences for employees is an exciting challenge that comes with a great sense of responsibility and pushes me to be the best version of myself and lead by example every day. Furthermore, the field of TA and HR is challenging and fulfilling, as it requires me to continuously develop my skills and knowledge to be effective in my role, particularly in the tech industry.
What brought you to Sweden?

I was living in Spain and studying for my master's in HR Management after working in the Spanish market when I decided to move to Sweden. My passion for technology and the digitalization of HR processes significantly influenced my decision to move to Sweden. The country's reputation for innovation and sustainability, particularly in the tech industry, was particularly appealing to me as it presented an opportunity to be a part of and learn from a leader in these areas. My entrepreneurial spirit was also excited by the strong start-up culture in the country, as it presented an opportunity to be a part of and help shape the future of different companies in the tech industry.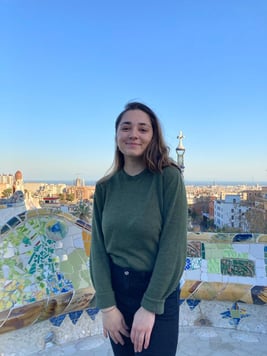 Additionally, I was drawn to the progressive labour laws in Sweden, which offered an excellent opportunity to learn about and apply best practices in the field. Sweden's progressive and inclusive work culture, diverse talent pool, and good work-life balance were significant factors in my decision. They gave me a different perspective on approaching and handling HR-related issues in the tech industry. Sweden's diverse talent pool, stunning nature, and good work-life balance also drew me to the country and made me feel that it was a great place to work and live.
Another reason why I decided to move to Sweden is because of the flat organizational structure, which allows for my voice to be heard and for me to have a more significant impact in my role. Additionally, moving to Sweden was an out-of-comfort-zone experience for me, as it offered a new perspective on work and living. The business culture in Sweden combines teamwork and individual accountability, which is an essential skill in today's world. This unique blend of working styles allows for a more holistic approach to problem-solving and decision-making.
What are TA, HR, and recruitment to you?
I see Talent Acquisition (TA) and Human Resources (HR) as two integral parts of any organization. TA is the process of finding and attracting the most qualified talent for the job, which is a critical function of HR departments and is necessary for any business to stay competitive, attract and retain the best talent, and remain profitable. It is a strategic, proactive approach to finding and hiring the right people to add value to the organization.
While HR is responsible for managing and developing that talent and ensuring that the organization complies with employment law and that employees are treated fairly and equitably, recruitment, on the other hand, is the process of seeking out, screening, and selecting job applicants with the necessary skills and qualifications to fill open positions. These functions bring the bricks for fulfilling business goals and the organization's vision.
My experience in a leadership role at the Talent Acquisition function during the pandemic has given me a great understanding of the importance of finding the right fit for any job and the value of having a well-trained and motivated team. Additionally, I have been part of various cross-cultural Talent Acquisition and HR teams in multiple European markets, where I have seen how HR plays an essential role in creating a positive culture, providing employees with feedback and guidance, and helping create an environment of continuous learning and growth. The lay-off chain we experienced in 2022 has highlighted the importance of HR planning and the need for organizations to take the necessary steps to build a sustainable workforce.
Through TA and HR, we are ambassadors of modern practices and breaking inequality in the workplace. As someone passionate about helping people reach their full potential, I focus on creating an environment where people are valued, respected, and empowered to succeed. It is also about finding the best talent and creating an environment where they can thrive and reach their full potential. These processes significantly impact people's careers and personal lives, and I am proud to be a part of this.
What (soft) skills do you think someone must possess when working within TA and recruitment?
Being equipped with various soft skills is essential when working effectively in Talent Acquisition and Recruitment. Effective communication is the cornerstone of any successful TA and Recruitment professional, as it allows us to build long-term relationships and meet organizational objectives. This involves articulating ideas and information, both verbally and in writing, to create clear job descriptions that attract target candidate profiles or effectively communicate hard news, such as rejecting a candidate, politely and professionally. Time management is also vital in TA and Recruitment, as it allows us to source efficiently, screen candidates, and keep up with current trends. This is especially important in today's job market, where competition is fierce, and the need for agility is essential. Problem-solving is another valuable skill for TA and Recruitment professionals, as it allows us to think on our feet and develop critical solutions to problems quickly and efficiently.
Developing empathy and understanding of the needs of candidates and colleagues is essential for fostering trust. This is especially important in a job market where candidates increasingly seek companies that value their people. Additionally, it is necessary to understand the current state of the job market and the trends and challenges businesses face when it comes to talent acquisition to understand better the needs and expectations of both employers and job seekers.
Organizations are looking for more efficient ways to find and hire the right talent, and the
emphasis is on speed and agility. The surge in remote work has also shifted the focus to
using more data-driven approaches and technology in the recruitment process.
This has increased focus on job boards, digital marketing, and "talent pools" to identify
potential candidates. As the TA and Recruitment industry constantly evolves, adaptability is also critical. This requires professionals to adjust to new trends, new methods of recruitment, and technologies, such as artificial intelligence (AI) and automation, to stay up to date with industry best practices and to take the initiative to stay ahead of the competition.
Other soft skills that would be advantageous are networking, building relationships, and negotiating to create a positive relationship between employers and job seekers. Finally, a strong understanding of labour laws and equal opportunity regulations is essential to ensure the hiring process is fair and equitable.
You have worked within the field in various countries (Turkey, Spain, and Sweden) and with international clients and candidates. What would be the major difference between working with TA and recruitment in Spain vs. Sweden?
As an HR professional who has worked in both the Spanish and Swedish markets, I have noticed some significant differences between the two. Candidate profiles, job markets, and demographics vary greatly between Spain and Sweden. In Spain, the population is younger, with a youth unemployment rate that's relatively high compared to the EU average. Although the job market is recovering from the pandemic, it is common for educated young talent to move abroad; therefore, it can be tough to compete for skilled talent.
In terms of organizational structure, Sweden has a more flat structure, making it more difficult for early professionals since a higher level of expertise is needed. Additionally, the education and English fluency levels are more elevated in Sweden. This has created a highly competitive job market, and wages are higher due to higher living costs with a strong start-up culture. As a result, this competitive atmosphere makes thorough negotiations on salary and employment conditions more common in Sweden. In addition, work-life balance is a crucial aspect Swedish talent pool, whereas, in Spain, mental health is becoming a major trend.
The recruitment process in Sweden is usually managed by a small TA team or HR function or through recruitment consultants or agencies in start-ups and small-medium enterprises, whereas we can see a more structured HR function among organizations in Spain. It can also take longer due to the summer holidays, which take place within ten weeks. In terms of job boards, Sweden offers more private, industry-specific, and network-specific job board options, including job boards of recruitment agencies. In Spain, job boards are more focused on LinkedIn, Indeed, and InfoJobs social networks. Technology-wise, there is a massive ATS presence of TeamTailor in the Swedish market, whereas SAP or Lever is more common in Spain. Interestingly, internships in Sweden also tend to have additional and more complex responsibilities than in Spain. Finally, in terms of networking, I can say that Sweden has a solid after-work culture that provides opportunities for TA professionals.
Overall, I have noticed that Sweden has a robust and more advanced tech-oriented and start-up culture than the market focused on services and corporate functions in Spain. Despite this fact, Spain's technology industry registered a 5.6% rise in IT hiring activity in June 2022 compared with the previous month with the recruitment of software engineers and entry-level position leading, which signals us a hint on where the Spanish job market is heading to. On the other hand, 2022 was a year with an increase in the employment rate and labor force participation, yet unemployment remains high. There is a recession and rise in the unemployment rate expected on the Swedish economy's horizon in 2023, which would shape the current landscape.
Although the two markets have their own unique aspects, there are similarities, such as centralized job markets in only a few locations and language barrier struggles for international talent. However, in Sweden, there is a greater focus on providing public language training services and NGOs supporting minorities and international talent to get job opportunities.
What have you learned from working in Sweden?
Working in Sweden has been an eye-opening experience where I had the opportunity to work with many highly talented and driven individuals. It has taught me a lot about the importance of teamwork, efficiency, creative problem-solving, and respect for different cultures. Additionally, Swedes are very open to working with people from different cultures, religions, and backgrounds. I have also experienced how Swedes are known for their excellent work-life balance, and that work is not the only priority in one's life. I have learned that Swedish culture values effective communication, trust, and collaboration. Swedes have a strong sense of fairness and equality, which is reflected in the workplace. People are open to new ideas, and there is an emphasis on creativity and innovation. Swedes also value work-life balance and enjoying life outside of work.
One of my favourite aspects of Swedish business culture was the flat organizational structures, open work environment, mentoring system, and the union's presence in employment relations. On the contrary, integrating into society and navigating the job market during the first years has a few improvement points for progress in bureaucracy. Although it was a challenging year with lay-off in the tech industry and restricting updates regarding the Swedish migration system, I have had a wonderful experience learning about and working in Sweden. I can say that I am a big fan of fika!
How does your international experience add value to working with TA and recruitment in Sweden?
My international experience has given me a unique set of skills that add value to working with TA and recruitment in Sweden. The experience of living abroad pushed me to make critical decisions for my life and solve problems on a daily basis which sharpened my decision-making, adaptability, and problem-solving skills. This skill set can translate into outstanding leadership aspects to handle uncertainty, be comfortable with change and overcome organizational challenges. Moreover, being put in different situations and context is part of the ex-pat journey, which brings continuous failure and learning from your mistakes where you discover your strengths and improvement points. I believe this sense of self-awareness and autonomy is essential to thriving in a scaling and fast-paced environment.
Additionally, my international experience has enabled me to develop an understanding of different cultures and unfamiliar personality types, meet and work with people from all over the world, and build a valuable international network. This helps a person to bring an objective, bias-free mindset to recruitment processes, gain knowledge of different candidate profiles, understand best practices from different job markets, and deliver a wonderful candidate experience by fostering trust and respect and connecting with candidates with cultural sensitivity. An example of the added value of ex-pats can be the time my knowledge of Spanish labour law, relocation processes, and the Spanish market has allowed me to improve the expansion efforts of my previous employer. Finally,
"I can say that international experience boosts confidence and provides an opportunity to support the organization in expanding into new markets and gaining fluency in multiple languages, as I did, which helped me many times in delivering great client experience."
When we think about these skill sets in the Swedish market, they have a great cultural fit and relevance with the current innovative-driven, high-growth, and fast-paced environment.
You are in the job market now; what kind of position would you aim for?

I am aiming for a role in Talent Acquisition or Human Resources Operations that leverages my expertise in HRIS and ATS systems and end-to-end recruitment, as well as my knowledge and experience from HR Generalist or HRBP roles. My passion for digitalization, combined with my experience working in the tech sector and entrepreneurial environment, has motivated me to develop my knowledge and experience in IT recruitment. While I am taking courses to expand my knowledge of HRIS and ATS systems, as well as IT recruitment, I am excited to broaden my knowledge and experience in IT recruitment and gain further experience in Nordic markets. Furthermore, I am passionate about using the latest technologies and trends to optimize recruitment processes and ensure that the right talent is hired most effectively and efficiently. With my next role, I am eager to be part of a team that values innovation and collaboration, where I take on multiple projects, work with talent pool databases, handle the recruitment of roles with various levels, and can use my experience, technical skills, and language fluency to help bring about positive change.