What were your expectations when moving back to Sweden, in terms of 'integrating' into Swedish society?
Considering that I have been living abroad for almost 20 years, my expectations were not high, in the sense that I knew what type of society Sweden is, and I knew that it would be hard to integrate into it, especially because I also have a French husband who does not speak Swedish (yet). Me and my husband are quite spontaneous creatures and are quite bad at planning our social lives, to be honest. In Sweden you have to plan everything well in advance: your friends, your summer holidays … We just cannot seem to get used to this and keep missing out on social meet-ups because we prefer a more live-by-the-day approach. We got forms from our son's childcare in March to plan for his summer holidays - we hadn't even planned Easter at that stage. But we were expecting all of this so it did not come as a surprise.
What I did not expect though is how we have been able to find friends quite quickly, mostly within the ex-pat community. It is very easy to bond with people who are living here but are not from here or other Swedes who have lived abroad. As soon as we hear ex-pats in the gym we speak to them, and they are always open to meeting.
Another positive is that because of our experience from abroad, living in numerous different countries, we have such a different perspective on things and tend to think that most things back here are great. People complain a lot, but we cannot really see the negative that they do, because we know how much worse it actually could be. Of course, we do not think everything is great, but a lot of things are, and everything could always be so much worse. This attitude helps us a lot, both privately and professionally.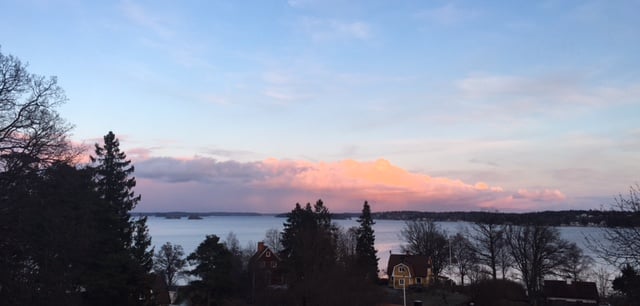 Something else that I did not expect, is that I never realised that the professional skills that I picked abroad, are truly helping me in everything that I do. Not skills that you study: skills from living. The culture abroad is different: you need to take space in order to shine, whereas Sweden is a bit different. Because I learned this, I also now know how much I actually know, and how a lot of what I know could be implemented in a lot of Swedish companies. The tempo abroad is much quicker in basically every department: many Swedish companies have a lot to learn when it comes to speed and agility. Sometimes there are so many processes put into place in Swedish companies and people are afraid of making decisions: they have to be run by a management group that meets on a monthly basis. This strategy is very outdated and makes the machine quite slow.
"Imagine if you can hire people who operate quicker, adopt easier and therefore get more done. What would happen to your company then? "
What have the years abroad taught you and how has this changed you as a person?
I do not think I could put everything onto paper that I have learnt throughout the years of being abroad. I left when I was 20, and I came back as a completely different person. Johanna leaving Sweden was insecure, shy and a bit lost. I moved abroad and tried 10+ professions, lived in seven different countries, and I came back almost 20 years later with my own little family, confidence, knowing my own self-worth, with a career, and the knowledge that I am really good at what I do. There are no challenges that come my way that I am scared of - I know how to handle myself, and I know how to rebuild.
"Moving to so many different countries teaches you how to rebuild your life should something happen. This is an invaluable skill to have and can be used privately and professionally."
How could these changes or experiences be of added value for an employer in Sweden?
"I think hiring people who have gained work experience from abroad should be a part of the diversity strategy that a company implements."
I am not saying that skills learnt abroad are better than the ones learnt only in Sweden, but I do know that it gives different perspectives, and this type of diversity is crucial in order for companies to grow appropriately. Key skills that everyone who works abroad learns are dealing with different cultures, understanding different approaches, changing mindsets and the ability to roll up your sleeves and get the job done. In Sweden you are quite safe when in employment: abroad you have to be good at your job, or you have no job. Of course, there are exceptions to this rule, but generally speaking, this is how it is. So when applying for a job back home in Sweden again, I have truly seen that my take on whatever issues that might arise, are simply different to that of those who have never worked abroad. This is again where that different perspective is such an added value to an organisation.
3 advice for Swedish employers in terms of embracing international experience in their recruitment process?
Swedes have a tendency to play it safe. It is easy to hire people who you know, or who worked for companies that you know. It might seem risky to hire people from unknown backgrounds - but in my opinion that is the risky move because playing it safe - is sometimes more of a risk. There is so much data out there showing that diversity is what makes companies gain momentum. Embracing international experience is a diversity standpoint.
"If the talent is there - hire them: that would be my advice."