Moving to a new country and finding a new job can be a challenge. Christine Osazuwa who lived in Sweden a few years ago has shared her experience on her job-hunting journey in Sweden.
Her story is based on her experience in the year 2017, however still relevant to job seekers today, so our first tip: Never give up and keep up the good spirit!

Bio and background: Christine Osazuwa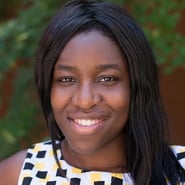 So in 2017, my husband & I sold all of our things & moved from Baltimore to Stockholm. When we landed, I had never been to Stockholm before and went to Europe for the first time 6 weeks prior.
I wanted a job in music. For specifically, I wanted a job at Spotify. I arrived with 3 degrees, including an MBA; 3 years of management experience; 6 years of full-time work; years of consulting experience; prior work at a record label, a radio station, venues, and startups; spoken at conferences, taught workshops, the ability to write in Python, R, SQL, JavaScript; and with years of experience in Marketing, Web Development and Data Science.
I thought it would take me 6 weeks to find a job once I arrived in Stockholm. My husband said it would take 6 months.
It took 6 months.
I would say, if someone had told me it would be this hard, I probably wouldn't have done it. But, someone did & I did anyway. 2017 was, by far, the most challenging year of my life and I never had more self-doubt, self-loathing, depression or anxiety in my life. I cried in public–a lot. I didn't realize just how much of my identity was wrapped up in my career, but eventually, I came out on the other side.
Funny enough, after months of networking events, volunteering, co-working spaces, informational meetings, and fikas–I got a job by literally emailing my CV in for a different job entirely at Universal Music Sweden. But despite that, I was truly amazed at how open & willing people were just to grab a cup of coffee with me. Almost all of my cold emails resulted in at least a conversation.

So, I'm writing this as a document of everything I did in the hopes that I'd find a job in Stockholm and as both a warning and a beckon of hope to anyone else that finds themselves in a similar situation.

1. Learn The City
• Travels of Adam's Stockholm Guide
• GQ's Stockholm in a Weekend Guide
• Culture Trip's 10 Non-Touristy Things To Do in Stockholm
• Slow Travel Stockholm
• The Local Sweden

2. Books
• Lagom: The Swedish Secret of Living Well by Lola Åkerström
• Unpack: A Guide to Life as an Expat Spouse by Lana Wimmer

3. Pick an Industry/Vertical
I wanted to work in music & I wanted to work in tech. So before I even got to Stockholm, having been involved in Baltimore's tech scene, I started researching who was the must-know people and the places to be. Thankfully, Stockholm turned out to be such a small city that I came across so many people that didn't know they helped me as I went through my journey.
• A Guide To Stockholm's Tech Scene
• Stockholm: The Powerhouse of Sound (Music Tech Guide)
• Resources For Swedish Startups
• Export Music Sweden

4. Attend Events
SUP46 was usually just the right place to be. If you wanted to meet a startup founder, get an introduction, make a new friend, or just attend an event–it was usually the first place to go. I spent 3 months volunteering there doing events and got to meet so many key players in Stockholm's tech scene.
• SUP46
• Meetup.com
• Startup Events List: Stockholm
• Eventbrite
• Facebook Events
• She Supp
• Changers Stockholm

5. Learn Swedish
I didn't start taking the lessons offered by the government until after I started my job (I could have started as soon as we arrived but wanted the flexibility to job hunt), so I did DuoLingo daily which helped with my vocabulary a lot by the time we started taking classes which were 3 hours every Tuesday and Thursday from 5:30-8:30 pm. Yes, it was as intense as it sounds but I was grateful it was free & it was helpful.
• Tim Ferris' Guide to Learning New Languages
• Swedish Children's TV Shows
• Swedish For Immigrants (SFI) — Free classes from the government
• DuoLingo
• Grow Internationals
6. Join Groups
• Nova — Invite only group for in-demand talent
• American Women in Stockholm
• PyLadies
7. Jobs in General
These are the job sites I used to supplement my daily checking of the music company websites.
• The Hub
• Hyper Island
• Glassdoor
• Academic Work
• Beyondo
• Sting
• Graduate Land
• LinkedIn
• Harnham
8. Total Stats Over 6 Months
I won't harp on too much about my journey because this topic is already incredibly niche but I ended up going to so many events, continuously applying for roles, getting referrals from different companies, meeting as many people as possible, taking on freelance contracts–all in the hopes of finding a job. It kind of all ended up being unnecessary but it kept me busy, I met some very good friends, and there was always a possibility that one of these things would pay off.

• 58 networking events
• Over 28 applications
• 15 informational meetings
• 14 interviews
• Toured 7 coworking spaces
Wow, quite a journey, and thank you for sharing this with us Christine! We know you moved on and secured your dream positions in London and we wish you all the best of luck there!
To the job seekers in Sweden, we say, do not give up! View our current job openings here!
Curious to read more content on this topic? On our website, under the header of News, you can find relevant information for job seekers and for companies in need of recruitment assistance!