Undutchables , the pioneer of recruitment of internationals, has been a huge part of my life. I was working with them for more than 20 years in various roles in The Netherlands. I remember the first interview I had with them in Amsterdam, I was amazed by the 'positive vibe' I got from meeting with the team. This continued for all the years I worked with them. In 2017, Undutchables made it possible for me to move (back) to Sweden in order to set up a branch in Sweden. After a five-year period of being a franchisee (Undutchables Sweden goes Beyondo) of their brand, the opportunity came to build my own brand: Beyondo.
I find it very interesting to speak to leaders who work and build diverse organisations. Last year, a great example of this was Undutchables! When Undutchables celebrated their 25th anniversary by taking the whole crew at a long weekend to Valencia, I was invited to join them. I met up with amazing colleagues whom I had, due to Covid, only met via digital meetings.
When meeting this amazing crew I had to give the General Manager of Undutchables, Nick van der Dussen, a compliment. I was amazed how they, after so many years (26 years now), were able to successfully attract and hire a diverse workforce and still keep the true 'Undutchables DNA' within the company. Hence, who would be the best to explain 'how you successfully build a diverse team', if not Nick!
So, please enjoy reading about how Undutchables make it so easy, mixing diverse teams and being so successful - just because they work with diverse teams!
You work with internationals for internationals, what would be your best advice for companies when it comes to hiring international talents into their company?
Nick: My best advice here would be to really invest in diversity, to make sure that your company stands out from the crowd in terms of employer branding, culture and such in order to also attract the right future employees. Having said that, employer branding is not everything. If your employer branding truly displays the kind of company you are and you attract employees based on that, good for you. If you create an external image via employer branding of how ideally you would like your company to be, while you are not, you are setting yourself up for disaster. Marketing can not create a company DNA for you, the culture and how you treat people working at the company does.
Why is it important to have a diverse workforce and how do you make this happen?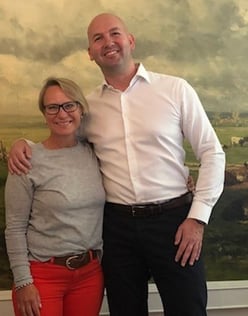 It is extremely important to have a diverse workforce, all those differences combined make a perfect mix to achieve the best result together. A diverse workforce creates a diverse view on business, creates opportunities and enables creativity a lot more in my opinion. In a way we are programmed to be close to like-minded people, people that see things the same as us and what we agree on, this is comfortable for us. I believe the magic happens when you work with people that are the complete opposite of you, people that think differently, and that does not agree with how you see things that challenge you. Maybe it is just like a learning curve, the magic is outside your comfort zone.
How many nationalities do you currently employ?
21 of 41 employees in total
Wow - amazing! 21 nationalities! Could you list some of them?
Sure thing, we now have team members from Brazil, Turkey, America, Croatia, Germany, Malay, France, etc. etc. it is a very diverse team, just the way we love it.
And, what is your company language?
The formal company language is still Dutch, this also has to do with us being the (language) bridge for international job seekers in regard to the local job market and its rules, regulations and such. On the work floor, it is a mix of Dutch, and English that is spoken mainly and of course, with so many different nationalities in the team, we are able to communicate with job seekers in their own native tongue.
How would you define the DNA of Undutchables?
People-focused I would say, both internally and externally. With that, I believe that doing a great job whilst having a lot of fun goes really well together.
How do you manage to always attract the right match to your own company?
We have an excellent reach in the international community in the Netherlands. I strongly feel that an application process is an equal 2-way street; someone is looking for a great new challenge, Undutchables is looking for a great new team member. The magic happens exactly in the middle.
What I have learned by working with Undutchables; you very much focus on the person, the personality, and the ability of what a person is able to do. How do you screen this / how do you notice this during an interview?
Going beyond a typical job interview where you only try to connect the dots between the duties and responsibilities of a job description and the experience of a candidate. Meet the person, really meet the person, and ask questions because you want to know more about them, don't ask questions with the answer you would like to hear in mind. Energy and motivation are also factors I would say. You can be a CV-to-job description match of 60% though the right energy, ambition and motivation can make you a 100% match for a certain role or company.
You always managed to make a good mix of 'Dutch' and 'international' influences. What is your secret to this success?
"In one word; diversity! We have done so since our start in 1996 (long before diversity became a fashion trend) and it has always worked out excellently for us."
What do you do to retain your personnel?
We try to take the best possible care of our staff with our personable en people-focused approach. We believe in the employee being in the lead and continuous development. But Undutchables also is quite a flat organization so sometimes employees outgrow their role and we do not have a next step to offer, that also is a reality. We do always try to make the Undutchables journey, be it short be it long, a happy one.
Well, as an old Undutchables - I can say - once an Undutchables, always an Undutchables. I am very proud to have been a part of the team! Thank you, Nick, for sharing these valuable insights with us. I am sure a lot of companies can learn from this!